Tortoise shell objects are made from the outer blades covering the upper shell of the Hawksbill turtle and the Loggerhead turtle.  Fortunately, it has been illegal to produce tortoise shell jewelry since the 1970s.  The beauty and rarity of real Tortoise Shell is, for me, tempered by its sad history.  In order to buy or sell Tortoise Shell legally, it must be at least a hundred years old and a genuine antique, or to have originated from a private collection (for example, if you get left some Tortoise Shell jewelry as an inheritance). But do double check the laws in your own country as they differ.
Testing Tortoise Shell.  
Other materials such as celluloid, Lucite, Bakelite, horn, bone and plastic can all be mistaken for tortoiseshell, especially if looking at pictures alone.  In order to identify genuine Tortoise Shell, apply a hot pin to a hidden spot; if the resulting smell is similar to burned hair and a black spot is left, it is likely to be Tortoise Shell.  If there is a plastic smell it is not Tortoise Shell. You can also run it under hot water to see if it gives off a plastic smell.  Another way to tell is have a look at the markings; real Tortoise Shell is not regular in it's marking and will have a distinctive luminosity when held to the light.  There will also be a slight unevenness to it that cannot be found in molded materials.  Upon close inspection, one can often see fine knife marks where the tortoiseshell was carved by hand.
Colors
Most Tortoise Shell is the dark brown or reddish-brown variety with translucent amber high-lights but it can also be a uniform dark brown with no amber. Generally speaking, the older and more well worn the piece, the darker the Tortoise Shell, even appearing quite black in very old pieces. Tortoise Shell can also be  the 'Blonde' or 'Demi-Blonde' variety in which case it will not be dark, but will still darken with age.  Blonde Tortoiseshell is rarer and is considered more valuable and can range from an even pale yellow to a deep amber color. Tortoise Shell can also be stained different colors.
AN ENGLISH BLONDE TORTOISESHELL DRESSING TABLE SET  
Christie's Sale 4888
Tortoise Shell is very pliable and can be formed into many shapes with heat. It can also be carved and inlaid (piqué). Tortoise Shell was a very popular material throughout the 18th, 19th and first part of the 20th century.  It had an enormous variety of uses in jewelry, household objects and accessories.  Here are just some examples below:
Hair Ornaments
Bangles
Brooches
Boxes
An enormous variety of boxes, from snuff boxes, to trinket boxes, to jewelry boxes to tea caddies were created with Tortoise Shell.
Cigarette Holders
Cigarette Holders were all the rage during the Art Deco era (1920-1940)
Dog Collars
Dressing Table Sets and Traveling Boxes
Popular with both gentlemen and ladies.
Canes
Card Cases
Victorian Card Cases
Christie's Sale 2064
Necessaires and étui

A CONTINENTAL GOLD-MOUNTED TORTOISESHELL PIQUE NECESSAIRE  
Christie's Sale 1009 
Perhaps the most popular use for tortoise shell was piqué, which involved the delicate inlay of gold and silver. Every type of jewelry, earrings, bracelets, necklaces, rings and brooches, were produced throughout the Victorian era with this fine technique.

Earrings, tortoiseshell inlaid with gold and silver (piqué posé), English, ca. 1850. 
Photo copyright of Victoria and Albert Museum, London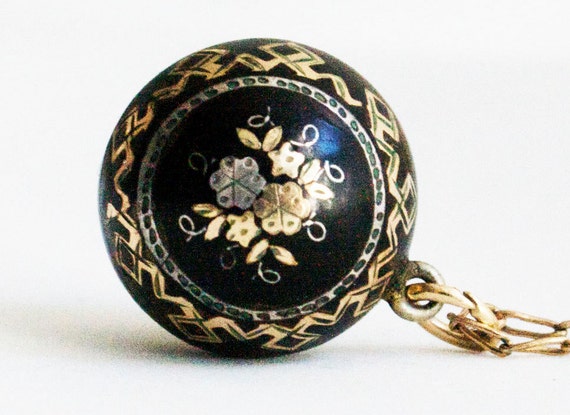 Mid to late Victorian Piqué single earring, converted into a contemporary pendant.  Note the typical circular design with geometric motif.
Sources / further reading:
http://www.langantiques.com/university/index.php/Tortoise_Shell
http://www.ebay.com/gds/TORTOISESHELL-Real-or-fake-How-to-tell-the-difference/10000000012067858/g.html
http://www.conservation-housekeeping.co.uk/blog/24-antique-tortoiseshell-ivory-bone-a-mother-of-pearl
http://www.nre.gov.my/Biodiversity/BioD%20Knowledge/CITES_Briefcase-10_Tortoiseshell_Identification.pdf