Earrings, tortoiseshell inlaid with gold and silver (piqué posé), English, ca. 1850. 
Photo copyright of Victoria and Albert Museum, London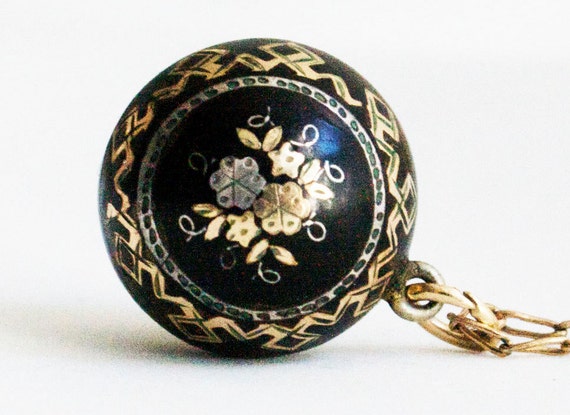 Mid to late Victorian Piqué single earring, converted into a contemporary pendant.  Note the typical circular design with geometric motif.
Piqué work was a method of inlaying gold, silver and sometimes mother of pearl into tortoiseshell and other materials to create truly stunning effects.   Piqué originated in Italy in the mid 1600s and then spread to France where it was further developed as a technique.  The English also enthusiastically adopted the method and English piqué jewelry is the most prevalent.  Jewelry was first made with this technique in the early 1800s and piqué jewelry peaked in popularity in the 1850s to 1880s.  It was considered appropriate for mourning because of the dark colors. It quite abruptly ceased to be made almost entirely by 1885. Earlier designs were much more naturalistic and softer; later designs became more geometric as production methods became more mechanized.
Generally, pure gold and silver were used as the metals.  It is quite difficult to metal test such small amounts of metal but it can generally be assumed that if you have a piece of genuine tortoiseshell and the design is well executed that the gold or silver is high carat.  Sometimes brass was also used. In order to embed the metals, the tortoiseshell was heated up first which caused it to expand and soften whilst the metals were worked in.
There were two types of piqué work: piqué point, in which gold or silver pins are driven into the tortoiseshell or other material to create the design and piqué posé, in which the design is engraved and then threads or small pieces of gold and silver are used to fill it in. You will sometimes hear piqué referred to as piqué d'or but this is only correct when referring to gold piqué work. Two major piqué artisans were:  Laurentini and Charles Boulle.
Christies sale 1447, 14 December 2004, New York, Rockefeller Plaza.
Lot Description 'A Group of Antique Pique Jewelry. Mid 19th century'
See here for more information
Christies sale 5639, 19 January 2010 Jewels at South Kensington.
Lot Description 'A Victorian tortoise-shell and citrine bangle.  The tapered tortoise-shell bangle of half hoop design, set to the front with floral piqué decoration and central oval citrine, circa 1860.'
See here for more information.
Piqué work was of course worked into different materials other than tortoiseshell, particularly celluloid which can appear quite similar to the untrained eye.  One method for testing for tortoiseshell is to burn a very small place with a hot pin; if you smell burning hair it is most likely to be tortoiseshell.  Another test to see if it is celluloid is to run it under very hot water; if it gives off a plastic smell it is celluloid.  However, the absolute best way is to handle enough pieces so that you know the difference by eye.  Another base material I have seen is wood.  The other materials sometimes used were elephant ivory and horn although less commonly for jewelry.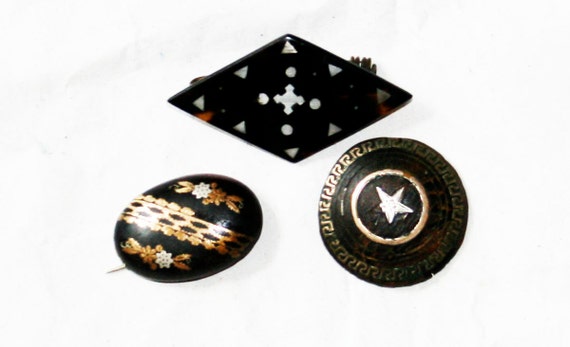 As assortment of piqué brooches using inexpensive faux-tortoiseshell materials as a base (the top is likely an early plastic and more contemporary, the one on the bottom left is probably celluloid and the one on the bottom right is wood).
Today, piqué jewelry is considered extremely collectible.  It can never be made again as of course tortoises and elephants are protected species.  Available Piqué jewelry is therefore only going to become rarer. Piqué jewelry is truly marvelous to behold, very wearable and absolutely beautiful.
Sources / further reading:
http://antiques.about.com/od/victorianandedwardian/a/Pique011810.htm
http://www.christies.com/lotfinder/lot/a-group-of-antique-pique-jewelry-4396864-details.aspx?intObjectID=4396864
http://www.christies.com/lotfinder/jewelry/a-victorian-tortoise-shell-and-citrine-bangle-5285462-details.aspx?from=searchresults&intObjectID=5285462&sid=5dae670b-6768-4e60-8a48-5b68db3d575f